The Diploma in Business Management is one of the top courses to get graduates prepared for the working world. Subjects covered have so many useful applications in real life, whether you're looking or a role within a large or small company,you're already employed but want to up skill, or you've been struck with a good idea for a start-up yourself.
The wide variety of topics on the curriculum include financial accounting, economics, management fundamentals, business finance, HR,law, and marketing. Read on to learn more about 4 of the biggest advantages of business management courses.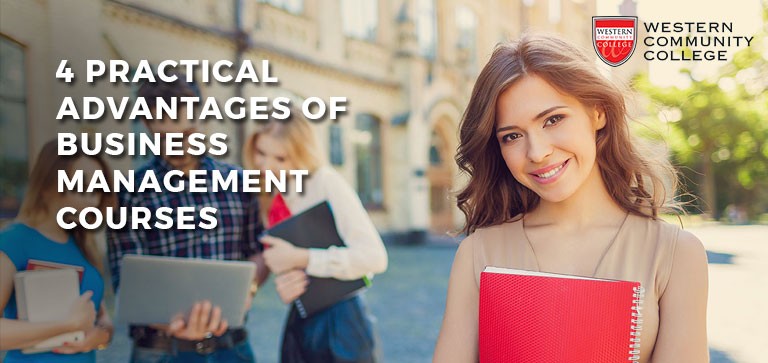 1. They put you ahead of the competition
With so much competition in the job market these days, great candidates will want an edge to stay ahead of the pack. The Diploma in Business Management equips job seekers with the tools to consider all aspects of a business, from the human side, to the financial and marketing sides.
2. They teach you problem-solving skills
Being equipped with a comprehensive view of the key challenges a modern business faces will allow you to enter into a role with your head up, and your eyes open. There are so many external and internal issues that can dismantle a modern business, and one of the practical advantages of business management courses is their ability to prepare students for potential problems, and be aware of ways to deal with them.
3. They prepare you in financing and accounting
Though they may not appear as glamorous as other roles, jobs in business finance and accounting are key components of a successfully run company. The Diploma in Business Management gives invaluable insight into the complexities of these subjects, as well as other connecting disciplines, such as law and economics, to give learners a good grasp of the full picture.
4. They are very practical
One of the major advantages of business management courses is that they give a broad base of knowledge that can be applied across industries. Though there are many niche areas for businesses nowadays, most companies have a similar structure, and need personnel with finance, marketing, and people management skills to fill their roles. The Diploma in Business Management is an all-round course that can fulfill a plethora of different needs, offering an excellent education for those already in business, and an ideal springboard for those starting out.
See the Diploma in Business Management course page for more details on one of Western Community College's most popular diplomas.